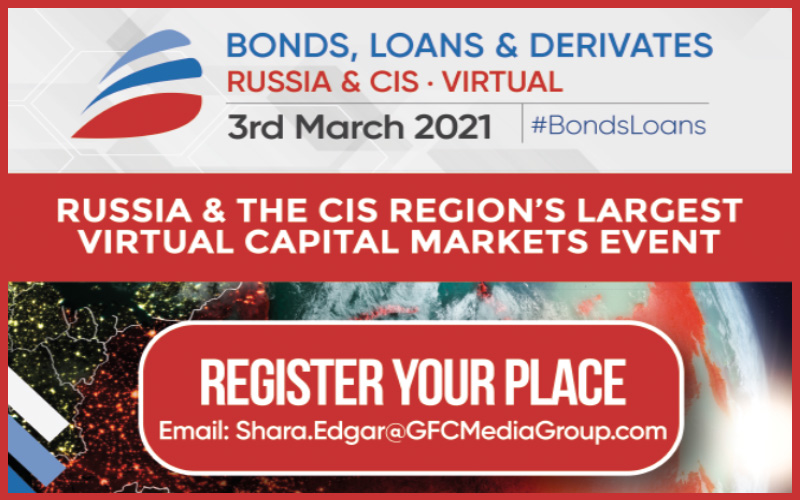 Date & Venue: 3rd March 2021, Online Website: www.BondsLoansRussia.com
"Russia & the CIS region's largest virtual capital markets event"
500+ Senior Attendees | 40+ Expert Speakers | 250+ Sovereign, Corporate & FI Borrowers
There has never been a more important time to bring together 500+ of Russia & the CIS region's most senior borrowers, investors, bankers, policy makers and market practitioners to share knowledge, debate and network. Now in its 10th year, the event remains Russia and the CIS region's largest and most senior capital markets event – with over 91% of the audience being director-level or above – making it a "must attend" for leading CEOs, CFOs and Treasurers. The event is taking place online this year, meaning that participants are able to connect with even more C-level decision-makers that they would at a physical conference in less time.
The event will bring public and private buyers and sellers together to conduct business and shape future financing strategies; enable you to request an unlimited number of meetings with attendees via the online networking directory; deliver behind-the-scenes insights from global financial leaders who will answer your questions; and provide a bird's eye view of the Russia & CIS market.
Highlights for the 2021 event:
· Hear from and meet corporate Eurobond issuers in one place: ROLF Company, Polymetal International, Borets International, EVRAZ, Maxima Telecom & more
· Watch the Ministry of Finance Uzbekistan reveal their 2021 debt management plans
· Understand how international and local institutional investors are pricing Russian risk: Apollo Asset Management, Legal & General Investment Management, Amundi Asset Management, Aricapital Asset Management & more
· Hear experts from across the region give valuable insights on ESG, rouble and Eurobond issuance, and syndications
· Request an unlimited number of meetings with attendees and global Bonds & Loans contacts via the online networking directory: Gazprom Neft, Metalloinvest, GV Gold, Chelpipe, Rosneft & more
The entire market will be present. Use your market's best attended event to re-engage with your existing Russia & CIS clients, build strong business relations with your prospects and hear the region's financial leaders speak on how they are navigating the current economic climate/share their expectations for the future.
Register your place: email Shara Edgar on Shara.Edgar@GFCMediaGroup.com
Enquiries: contact Shara Edgar on Shara.Edgar@GFCMediaGroup.com
Visit www.BondsLoansRussia.com to view the latest brochure, agenda, speakers and companies that participate